MURANO Zaneti-Veneto Studio 1920 Award Winner, Bowl, Plate Rare Green & Blue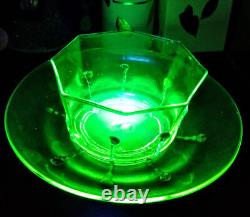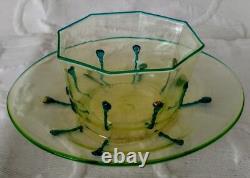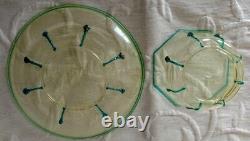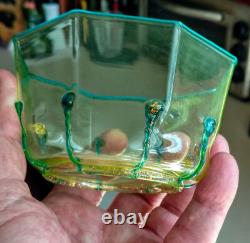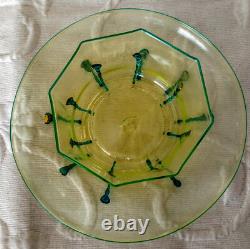 MURANO Vaseline Glass by Zaneti-Veneto, Award win piece, Bowl, Plate Rare 1920's One of One! Rare, exquisite hand-blown Murano glass by a master glass-smith in brilliant transparent hues inspired by early pop art. What makes this set truly a unique glass set is its lively and colorful hot-working application of the pastel filaments for ornamentation. Chromatic colors were used and there are slight signs that gold gilt was once used sparsely when the set was done, some remains today.
No chips, cracks, no scuff marks on bottom, in fine condition and a very rare piece. Glows brightly under a UV light as well. Dimensions of Bowl: 4" wide by 2 & 1/4 tall with a base of 2 & 1/2". Dimensions of Plate: 7" wide by 1 & 1/4". Tall with a base of 3.
Handmade in Veneto, Murano Island, Italy.

---